Choosing an outdoor awning or blind made from quality materials makes all the difference in how long they last. Too many people choose cheap, lower-quality materials, not realising that money saved now, may be wasted not long into the future when weathered outdoor materials need to be replaced far too soon!
When finding the right materials for your outdoor awnings and blinds, the first thing you should ask is what their purpose is going to be. In this blog we'll explore the best outdoor awnings and blinds fabrics and materials for you to make the right decision, so that you can install outdoor awnings and blinds that look fantastic and will stay that way for years to come!
Protect it with PVC
PVC is perhaps one of the best options in terms of maintaining uninterrupted views of the outside world, and can also reduce a fair amount of glare. It's incredibly important to invest in quality PVC though, as it is with the rest of the fabric options listed here.
PVC material is a perfect weather protection option balcony blinds. These blinds are ideal for enclosing pergolas, verandas, outdoor living areas and restaurants. They provide privacy and protection from weather and come in a range of fabrics, from clear PVC material to sunscreen protected and acrylic canvas options.
Keep Cool with Block Out Blinds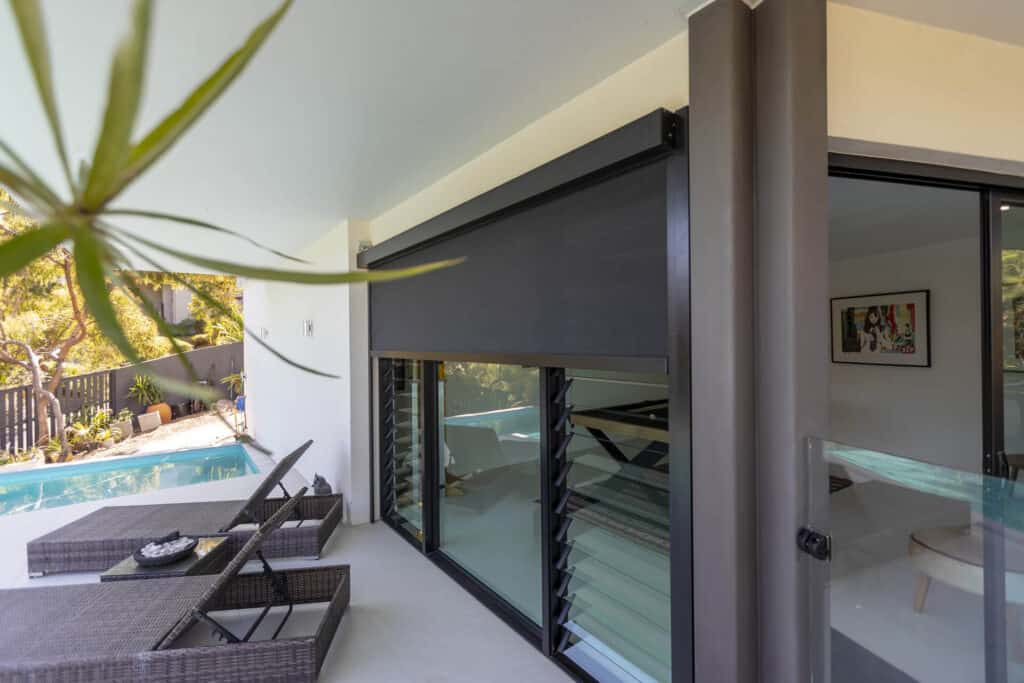 Block out screen material provides excellent levels of privacy and protection from the harsh conditions outside and make a bold statement on your home. If you want 100% privacy or full light blocking, block-outs are the way to go. These blinds are wonderful for West facing properties which need to moderate the afternoon sun and protect furniture.
Make it Magnificent with Mesh
Mesh is one of the Sunshine Coast community's most popular choices for outdoor awnings and blinds! Mesh awnings and outdoor blinds are typically made from PVC and so they are tough against rotting or fading. Mesh screens allow you to see through your windows while gaining protection from the more elements like insects, bugs, harsh sun, and rain, without compromising on comfort.
Mesh is available in a range of density and opacity and allows plenty of fresh air to flow through your outdoor area. Folding arm awnings are generally made from acrylic mesh, for its lightweight benefits and being able to be pulled taut and to prevent sagging.
Tough Metal Awnings and Outdoor Louvres 
These highly durable fixtures are made from powder coated aluminium that can be colour matched to your home design and infrastructure. Aluminium metal awnings can add a lot of decorative appeal to a home and provide wonderful shelter for over doorways and windows, giving you protection from rain and sun. Fixed outdoor aluminium louvres and screens are also a fantastic solution, providing privacy on busy streets or public facing windows, while still letting fresh air to flow.
Can't go Wrong with Canvas
Canvas is one of the oldest and toughest styles of awning fabrics around. Canvas still has high heat refracting properties, so it's perfect for window awnings and anywhere where harsh sun is a concern. When it comes to canvas, striving for quality is all important, given the harsh conditions they'll encounter.
Shade Cloth is Sweet
Shade cloth is a superhero when used to protect areas against the sun, but also comes in a range of colours which serve differing purposes. Fabrics which are dark coloured tend to absorb heat, while reducing the sun's glare, while sunlight reflects off lighter colours.
Check out our range of Awnings and Outdoor Blinds
We stock an extensive/superior range of stylish external awnings and outdoor blinds designed to fit and match your home or office's style perfectly. You'll find the best solution with these Factory Direct Awnings and Blinds:
Consider Eco-Friendly Products
It's important to choose materials that will not only have a fantastic impact on the appearance of your home, but also on the environment. Our stockist Phifer for example focuses on using recycled materials, designing energy-saving sun control fabrics, and minimises their negative impact on the environment during manufacturing as much as possible.
All of this focus on eco-friendly practices not only allows you to reduce your carbon footprint, but also provides insight into the integrity of such a company. If an organisation goes to such great lengths to ensure the environmental sustainability of their products, you can bet that the quality of material they create will be of an equally incredibly high standard.
Finding the Right Stockist and Installer
After deciding which outdoor awnings blinds to install, it's important to find the best quality stockist and installer is still important. Like many products, where the fabric is sourced from makes a huge impact.
At Factory Direct Shutters, for example, we take a lot of pride and have 20 years' experience, sourcing top quality materials of the highest quality available anywhere. This includes procuring fabrics from leading companies in Australia and Asia, as well as renowned U.S. brand Phifer. Our extensive research and experience in trade makes all the difference when it comes to the quality of the product we provide to our customers. Quality is something everyone should consider when finding their outdoor blinds' supplier and installer.
Ready to Choose your Outdoor Awnings and Blinds?
When it comes to Awnings and Outdoor Blinds, we've got the answer at Factory Direct Shutters, Awnings & Blinds! We know the best materials and styles to suit your home or office and can bring our showroom with materials and styles direct to you.
Contact us today on 1300 077 125 for a free measure and quote and start beating the Queensland sun!