As the weather slowly warms and the days lengthen through spring, our lifestyles will naturally begin to gravitate outdoors. We'll open up the sliding doors to our patios, balconies and decks, embracing once again the indoor-outdoor flow of our living spaces. We'll break out the barbeques and serve dinners on the back deck. Or, we may venture outdoors early to watch the sunrise over a morning coffee.
Alfresco dining is back on the table, and now is the perfect time to give those tired outdoor spaces a spring makeover to maximise their functionality and comfort in time for summer. The right blinds or awnings can make a huge difference to the look and feel of your outdoor living areas.
You can create shade, filter the sunlight, or opt for a complete block-out solution to stem the flow of light entirely. You can gain protection from the wind and rain, and keep those pesky insects at bay. You can also create privacy or enhance the security of your outdoor spaces when required.
How do you know which styles of outdoor blinds or awnings will be best for your space? Here is an overview of the most popular styles of outdoor weather protection, and the best applications of each.
Zipscreens for a Seamless Transition Between Spaces
Zipscreens are modern, minimalistic and seamless. A perfect complement to the mild south-east Queensland climate, they provide for harmonious connections between indoor and outdoor living spaces. Zipscreens are insect and bug proof, and ideal for decks, patios and balconies.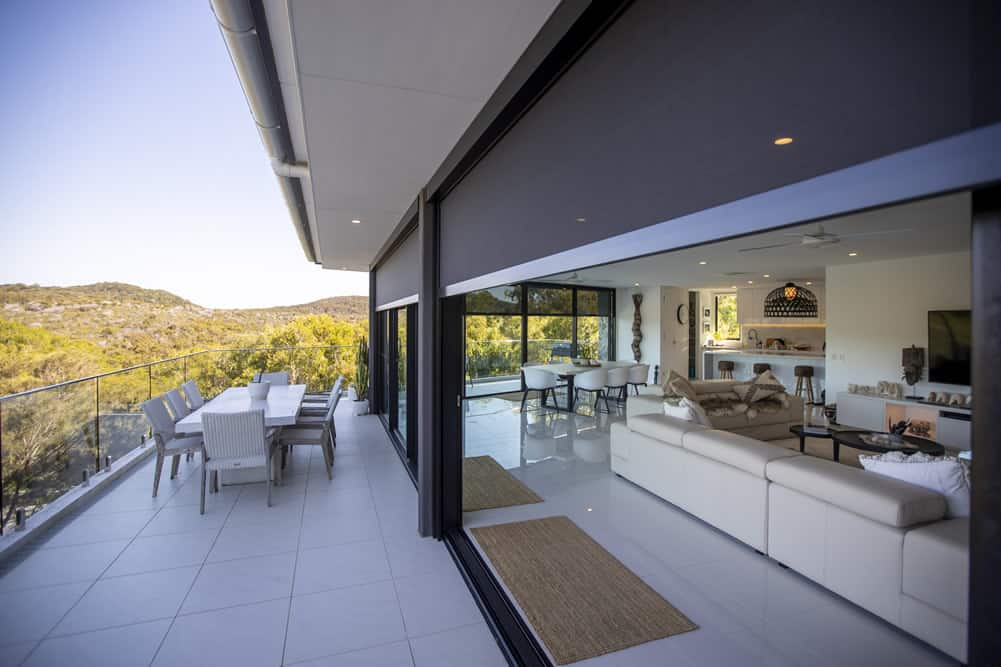 Secured on either side by zip channels, they remain taut and won't billow or flap in the breeze. They can also be fully motorised for ease of use. Depending on your preferred functionality, zipscreens may be customised in a range of fabric options. Coloured shade-cloth or block-out fabrics filter the sunlight and provide privacy. Alternatively, industrial-strength PVC creates a completely clear and weatherproof option.
As stylish as they are functional, our zipscreens all come with a five-year warranty and professional installation.
Balcony Blinds for Privacy and Weather Protection
Blinds are another great option, offering both privacy and weather protection for alfresco living spaces. Perfect for enclosing pergolas, verandas, balconies and even cafes, balcony blinds come in a wide range of fabrics and styles.
There are cord and pulley blinds, which are manually cord operated and roll up from the bottom. For small to medium-sized spaces, multi-stop channel blinds are a great option, as are spring roll-up blinds. Both of these styles are manually operated.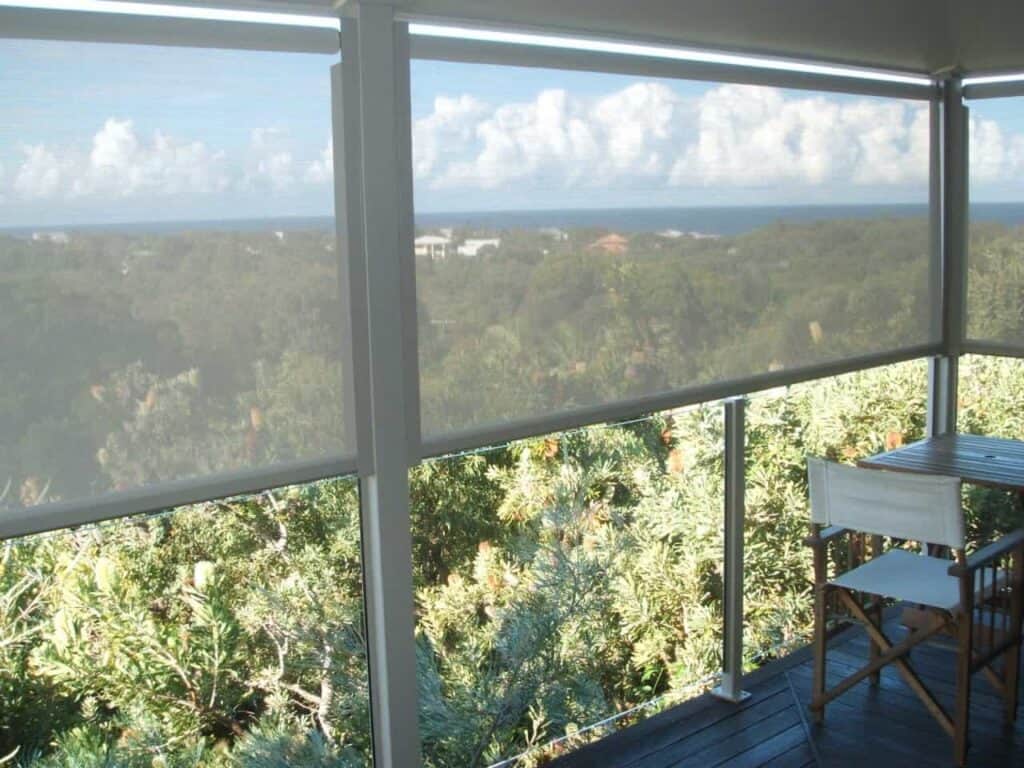 For larger spaces, the best options include straight drop, heavy-duty side channel, or wire-guide blinds. The latter two options can be motorised, and all operate to a maximum panel width of between 5800—6000mm. Finally, zip-up café blinds provide weather protection in outdoor dining spaces.
Out extensive range of balcony blinds can be further customised through your choice of fabrics and materials, from sunscreen to clear PVC to acrylic canvas.
Folding Arm Awnings to Shade Large Outdoor Areas
Where your alfresco living spaces extend beyond the coverage of a permanent roof, folding arm awnings provide an excellent shading solution. Perfect for pools as well as alfresco patios and entertainment areas, these awnings can be retracted when not in use, or when you want to allow extra sunlight into your outdoor space.
Folding arm awnings can cover an area up to 6.5 metres wide with a 4-metre projection from the side of the building on which they are mounted. They can be manually operated, or motorised for an extra touch of convenience.
All our awnings feature a five-year warranty and are professionally installed by our qualified tradespeople.
Roller Shutters for Light Blocking, Insulation and Security
Roller shutters provide total light-blocking functionality, and corresponding insulation benefits to protect your home's interiors – when closed – from harsh sunlight and summer heat. They offer additional benefits of privacy, security and protection from the elements.
Robust, sleek and stylish, roller shutters are a versatile and highly functional option for enhancing your outdoor living spaces, particularly in areas where privacy and security are important.
Our Australian-made roller shutters are available in a range of colours with your choice of motorised or manual operation. They are equally well suited to residential and commercial applications and come with a five-year warranty.
Selecting Outdoor Blinds or Awnings to Suit Your Space
Are you ready to give your outdoor living spaces a fresh spring make-over? We have over 20 years' experience in tailoring outdoor shade and weather-protection solutions to suit the south-east Queensland climate.
Call us on 1300 077 125 or get in touch online to book in a time for your free measure and quote. One of our friendly consultants will be happy to talk you through the best options for maximising your outdoor living space.