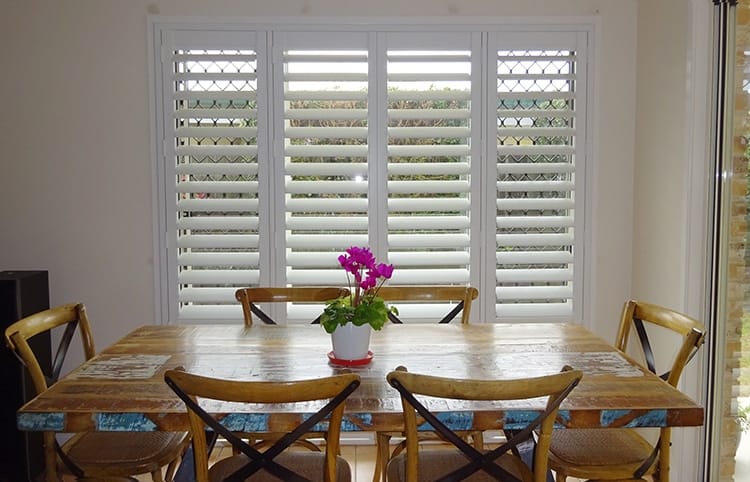 A cheap price may be tempting for bargain hunters, but it's important to know what the true cost of saving a few dollars is - especially when it comes to buying PVC shutters. Sure, you know the spiel about low-grade products not having the same look or feel as their quality counterparts, and certainly not lasting as long. But did you know that buying cheap PVC shutters can also be bad for your health?
PVC shutters are a fantastic and entirely safe addition to the home - when you buy high quality, toxic free ones. However, low quality, cheap PVC shutters are made from subpar materials can release formaldehyde, a carcinogenic, when they get hot. That means every time the sun hits your windows, you're at risk of breathing in a toxin known to cause asthma and a whole host of other respiratory problems.
If that's not enough of a warning, common tricks of cheap manufacturers include creating hollow shutters and not treating them with UV stabilisers, leaving you with warped and/or yellowed window dressings. Not attractive or acceptable!
To make sure you don't get left with health-damaging (and aesthetically displeasing) PVC shutters, we've put together an essential buying guide.
Toxic-free certification
As we've pointed out, cheap PVC shutters can emit some pretty nasty chemicals. For that reason, it's important to only buy from manufacturers who have had their products tested for these toxins, and can provide a certificate to prove it.
Product warranty
When a manufacturer or supplier has nothing to hide, they'll be more than happy to include a product and components warranty with their PVC shutters. Don't settle for anything less.
Look & feel
An expert isn't always on hand during the shopping experience, but that doesn't mean you still can't run a few quick tests by yourself. Quality PVC shutters have a certain heaviness to them, with aluminium being the #1 choice for the blade inserts. They certainly don't sound hollow when you tap them.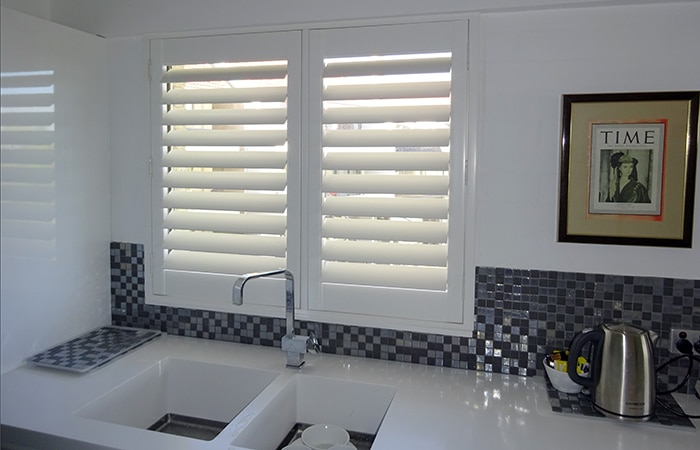 Core strength
As already mentioned, low-quality PVC shutter makers try to get away with designing products with hollow centres. You want to look for shutters with strong, aluminium cores, which won't bend or warp even when the harshest summer sun is belting down.
Quality finishing
The best PVC shutters available have a high quality finish, designed to endure throughout the many years you want to enjoy your home's well-dressed windows. Be sure to ask about UV stabiliser paint as well - this makes a big difference to how well your shutters can take the heat - and the warranty on the paint finish.
Strong connections
Many manufacturers design their PVC shutters by screwing the stile and rail together. This works, but is nowhere near as strong as a mortise and tenon joint. If you want to make sure your shutters have what it takes to bear the toil of everyday use, look for those strong mortise and tenon joints; screwing panels together weakens the stile and allows panels to drop and over time, cracks in the stiles will appear.
Now that you're armed with this insider industry-knowledge, congratulations! You're ready to start the exciting process of shopping for your brand new PVC shutters. We hope that with a little know-how from the experts, you'll be better prepared to make the best value and quality choice for you and your family.
Read our Essential Guide to Buying Shutters
All Factory Direct Shutters, Awnings and Blinds PVC Shutters are certified non-toxic and provide an economical, durable and stylish window and door covering for your home. Our PVC shutters have a quality PVC extrusion with an aluminium insert in every blade to ensure they do not sag, are available in a wide range of colours and blade widths, and carry warranties on the product themselves, as well as the hardware and components.
PVC shutters are the #1 most popular choice for shutters in Australia for good reason - they bring with them a host of benefits when a quality product is chosen. They're durable, low-maintenance, they're perfect for use in high moisture or humidity areas such as bathrooms and kitchens, and are a cost-effective choice for achieving the plantation shutters look at an affordable price in your home.
Lookout for what we've discussed from a reputable company such as Factory Direct Shutters, Awnings & Blinds and you'll be on your way to having many happy years of use with your stylish new PVC shutters.
Talk to us today about the benefits of high quality PVC shutters or call for an obligation free measure and quote in Brisbane, the Gold Coast, Northern NSW and the Sunshine Coast on 1300 077 125.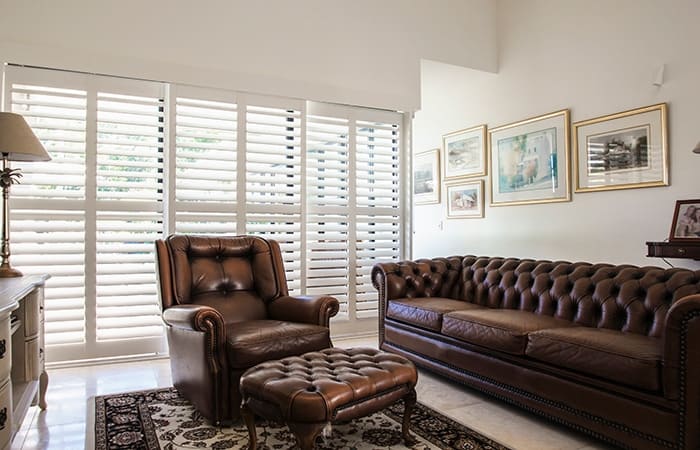 To the untrained (and inexperienced) eye, there might not be an easily noticeable difference between two different shutters of varying quality - at least initially, anyway. But give it a little time, and you'll quickly learn that low-grade knock-offs simply don't have the mileage that shutters made from high quality materials and craftsmanship do.
But if you're not in the business, how can you make the distinction and go for the better option? Our essential guide to buying shutters will put you on the right track.
1. First things first - choosing the best shutters company to buy from
Finding a renowned, authentic shutters supplier and installer will put you in good footing for buying quality shutters. If you can trust the supplier, you should be able to trust the product they offer.
Some things you should look for include:
- Experience. Try to avoid picking a business brand new to the industry.
- Custom made solutions. Pre-made sizes are never of exceptional quality. Your supplier should be always custom-make your product to fit the specific measurements of your home.
- Warranty. Manufacturers confident in the quality of their products aren't afraid to include a warranty and will also have a warranty on their installation.
- Qualified tradesmen doing the installation. Unfortunately, not all companies stack up in this area. Poor installation is one of the biggest complaints you hear about shutters. Read up on customer testimonials about the team and the installation process from the business you're looking to work with.
2. The shutters buying process - what to keep an eye out for
After carefully choosing a supplier, you're ready to start shopping! With an expert on hand to guide you the process shouldn't be too difficult, but there are still a few things you can proactively look for or ask about to ensure you're buying the best shutters possible.
This list of questions will not all necessarily be relevant to your specific needs, but they form a great basis for helping you discover what is and isn't important to you.
- Do they fit the climate of your home's location? Depending on where you live, waterproofing, adaptability to moisture, humidity, and salt air, and even cyclone ratings are all weatherproof options to consider.
- Are they for outdoor or indoor use? Some materials - like aluminium - can be fitted on both the outside or inside, whilst others - like wood - aren't suitable for the harsh conditions of the outdoors or for use in high humidity areas such as bathrooms or behind kitchen sinks.
- What impact do they have on the environment? The materials used for your shutters can have a negative economical impact, which is important to know if you want to do you part for your carbon footprint. Find shutters made from timber and wood sourced in an environmentally sustainable way.
- Are they non toxic? Unfortunately, there is a plethora of cheap and toxic PVC and power coated aluminium shutters on the market. Even wood varnishes cheaply finished can emit fumes. Look out for PVC shutters certifiably free of toxic emissions, lead-free paints and non-toxic wood varnishes.
- What construction do the corner joints use? Many shutters are designed by simply screwing the stile and rail together, but a mortise and tenon joint is far superior. Daily use of your shutters can start to take a toll, so you want to make sure it's equipped to handle the stress.
- What about shutters hardware? We're literally talking about all the screws and joinery that hold your shutters in place and make them operational. Cheap hardware can rust, perish and disintegrate, rendering your shutters useless; installing quality hardware out of the right materials is the sign of a quality company that respects the job and their clients.
3. Are PVC, aluminium or timber plantation shutters better?
Again this comes down to where and how you want to use your shutters.
PVC Shutters: These are the #1 choice for shutters in Australia and the most popular shutters for use inside the home. Our PVC shutters are an aluminium core, coated with certified non-toxic, non emission PVC to provide superior strength, structure and longevity. They should be guaranteed against warping due to the aluminium core, won't yellow in sunlight, and are low maintenance. PVC shutters perfect for use in both dry or high humidity areas such as bathrooms and kitchen wet areas.
Timber Shutters: Timber shutters provide a high-end option for an added touch of luxury for discerning buyers and the traditional material for shutters. Made from sustainable basswood, Factory Direct Shutters, Awnings & Blinds timber plantation shutters, are an eco-friendly, chic choice, available in a wide range of custom colours, and are guaranteed against warping.
Aluminium Shutters: Available in standard silver or a range of power coated colours to perfectly match your style and surrounding, aluminium shutters are the gold standard for patios, verandahs and any outdoor/external facing area use. Cyclone proof and made to still look beautiful in the face of harsh weather conditions, aluminium shutters are a super strength product designed to last.
4. What are the choices for shutters framing and operation?
Shutter are simple to operate, which is done with a tilt rod to open and close the louvres (this can also be hidden in the back of the shutter for a more minimalist look).
The main framing or casement options for shutters are hinged panels, bi-fold, or sliding or permanently fixed, with an inside or outside mount of the existing frame. This allows for a variety of options to suit your tastes, a range of spaces (from small to large) and how you will use your window or door in the future. For example sliding panels are great for in large spaces, extensive walls of glass and in front of sliding doors, while bi-fold shutters are very popular in bedrooms, essentially functioning the same as a curtain and allowing you to open up the room and expose the full window as desired.
Some advance thought into how you plan to use your area will ensure you get the right style of shutter for the situation.
This essential guide to buying shutters may seem a bit exhaustive, but rest assured when your windows are dressed to impress in nothing but the best, you'll be happy you put in that little bit of extra effort and research.
Learn more about Factory Direct's wide range of shutters or call us today to take advantage of our huge 50% off all shutters sale on now for a limited time across Brisbane, Gold Coast, Norther NSW and Sunshine Coast.
That's a massive half price on ALL Factory Direct PVC Shutters, Aluminium Shutters and Timbers Shutters!
Call us today on 1300 077 125 for a no obligation quote and measure from our mobile showroom, straight to your door.