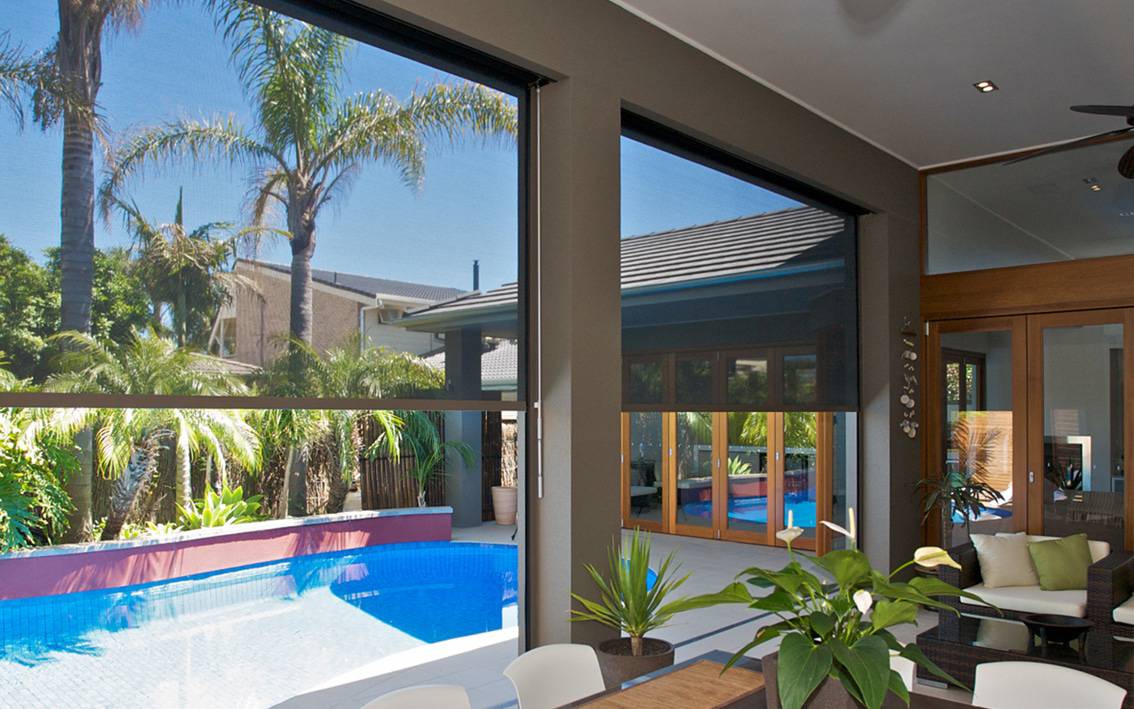 The look, feel, and longevity of your outdoor blinds and awnings is only ever as good as the materials used. That may sound obvious, yet still too many people choose cheap and lower-quality options, not realising that initial costs saved may be negated down the line when they have to replace their prematurely weathered outdoor blinds.
In other words, choosing a product made with the right fabrics and materials is really important. This guide will help you in making that decision, so that you can install awnings & outdoor blinds that not only look fantastic, but will stay looking fantastic for a long time to come.
So Which Fabric Should I Choose For Outdoor Blinds & Awnings?

When finding the right materials for your outdoor blinds, the first thing you should ask is what their purpose is going to be. Different materials serve different functions, for example:
Canvas
Canvas is one of the oldest styles of awning fabrics around. Canvas still has high heat refracting properties, so is perfect for window awnings and anywhere harsh sun is a factor. When it comes to canvas, quality is everything, given the harsh conditions they'll encounter.
Shade Cloth
Shade Cloth is mostly used to protect areas against the sun, but also comes in a range of colours that serve differing roles. Fabrics that are dark coloured tend to absorb heat while reducing the sun's glare, whilst sunlight bounces off lighter colours.
Block Out  Screens
Block Out Screens aren't the subtlest blinds, but they certainly provide a great deal of privacy and protection from harsh conditions outside. If you have want 100% privacy or light blocking, block outs are the way to go.
Mesh
One of Australia's most popular choices! Mesh awnings and outdoor blinds are typically made of PVC, specifically so they never rot or fade. Mesh screens allow you to be protected from the more unpleasant elements of the outdoors, like bugs, harsh sun, and rain, without compromising on being able to see out through the windows.
Available in a range of density and opacity, mesh also allows plenty of fresh air to permeate throughout your outdoor area. Folding arm awnings are generally made from acrylic mesh, for its light weight benefits of being able to be pulled taut and to prevent sagging.
PVC
PVC is perhaps one of the best options in terms of maintaining uninterrupted views of the outside world, and can also reduce a fair amount of glare. It's incredibly important to invest in quality PVC though, as it is with the rest of the fabric options listed here.
Fixed Metal Awnings and Outdoor Louvres 
These are made from powder coated aluminium that can be coloured to match existing home design & infrastructure. High durable, aluminium metal awnings can add a lot of decorative appeal to a home and are a great shelter for over doorway as well as windows, giving you protection from rain as well as as sun. Fixed outdoor aluminium louvres and screens are also a terrific solution, allowing for privacy on busy streets or public facing windows, while still letting in in fresh air.
Head To The Source

After deciding which particular outdoor blinds to install, the question of how to find the best quality materials still remains. Like many products, where the fabric is sourced from makes a huge impact.
At Factory Direct Shutters, for example, we take a lot of pride and have 20 years experience, sourcing top quality materials of the highest quality available anywhere. This includes procuring fabrics from leading companies in Australia and Asia, as well as renowned U.S. brand Phifer. Our extensive research and experience in trade makes all the difference when it comes to the quality of the product we provide to our customers. Quality is something everyone should consider when finding their outdoor blinds' supplier and installer.
Keen On Going Green

It's important to choose materials that will not only have a fantastic impact on the aesthetics of your home, but also on the environment. Take a company like Phifer for example; they focus on using recycled materials, designing energy-saving sun control fabrics, and try to ensure their manufacturing processes have the least negative impact on the environment as possible.
All of this focus on eco-friendly practices not only allows you to reduce your carbon footprint, but also provides insight into the integrity of such a company. If an organisation goes to such great lengths to ensure the environmental sustainability of their products, you can bet that the quality of material they create will be of an equally incredibly high standard.
Talk To The Experts

When it comes to Awnings and Outdoor Blinds, we've got the answer at Factory Direct Shutters, Awnings & Blinds! We know the best materials and styles to suit your home or office situation, and can bring our range of materials and awning styles direct to you to view anywhere in Brisbane, Sunshine Coast, Gold Coast, Northern NSW and surrounding suburbs.
Call us today on 1300 077 125 for a free measure and quote and start beating the Queensland and New South Wales heat and sun today!
You've got your new awnings in place, now it's time to make your outdoor space look even more beautiful with the right lighting to enhance it.
Whether you're entertaining guests, sharing a meal, or simply relaxing, there are a number of ways people make the most of their outdoor areas and the way you illuminate your patio can make a huge impact - not just on practical visibility after the sun sets, but also the overall ambience of your outdoor area.
There are many creative ideas and options out there for your patio or deck, of which we've selected the best for you to peruse and choose from, according to the mood you want to create.
Simple, Modern, Effective Lighting
Wall mounted lights
One of the most popular options, wall mounted lights create a clean and amply lit outdoor space. There are a multitude of designs available out there to choose from, including lantern-like designs for an old timey feel.
Perfect for: a no-fuss patio lighting solution.
Not so ideal for: patios without appropriately placed mountable walls.
Sky lighting
Another simple and popular option, sky lighting acts like traditional indoor lighting by illuminating an area from above. Depending on the kind of awning you have installed and roof type, these can be setup fairly easily within your ceiling, and create a really bright space during the day.
Perfect for: creating a brightly lit patio during the day time.
Not so ideal for: intimate lighting motifs, night time lighting or patios with folding arm awnings.
Ceiling mounted and hanging pendant lighting
Why invest in an entire lighting system? A well placed hanging pendant light (or series of them) over your outdoor table or seating area may be all you need to create a well lit space. This also allows you to take advantage of the bright light coming from inside your home, letting the light naturally flood your patio space.
Perfect for: minimalist, inexpensive, low-effort lighting.
Not so ideal for: Folding arm awning covered patios.
Combination Lighting
Garden lights, including solar lights
Garden lights are cost-effective and sleek, especially the solar powered kind. Dotted around the yard, they do a great job creating an ambient mood whilst also highlighting your feature areas.
Perfect for: showing off your garden or yard, tight budgets.
Not so ideal for: creating well large well lit areas, permanent lighting solutions.
Chandeliers
It doesn't get much more opulent than a chandelier. Although they provoke thoughts of superfluous dining halls, a chandelier doesn't have to be too lavish or even expensive, and can make a great centerpiece to bring your patio look together.
Perfect for: luxurious and intimate-feeling spaces or vintages style warmth.
Not so ideal for: Folding arm awning covered patios.
Table lighting
Candles, lanterns and the like set an intimate and inviting atmosphere. Usually they work better in combination with other options, as on their own they might not be the strongest source of light.
Perfect for: cosy and intimate settings.
Not so ideal for: creating a brightly lit space.
Something A Little Different
Fairy lights
You'll find more and more fairy lights adorning weddings and other celebrations, so why not bring it to your backyard? Their distinctly playful and homely vibe is super simple to install, too.
Perfect for: making a large impact with minimal effort, winding in around fence palings.
Not so ideal for: patios with complex designs or a lot of space.
LED floor lighting & uplights
Install LED strips on the bottom of your outdoor furniture or around the edges and steps of your timber patio to create a futuristic, dynamic look that will definitely have your guests talking.
Perfect for: a distinctive look that provides plenty of light, steps, shelf and bench seating.
Not so ideal for: budget restrictions.
For dozens of outdoor patio lighting ideas to showcase your beautiful new space with awnings or outdoor blinds, view our Factory Direct Shutters, Awnings and Blinds Pintrest boards now!
Factory Direct Shutters' outdoor blinds and awnings go a long way in creating a brand new patio, deck, terrace or outdoor living space for you to enjoy, but that's not the end of it.
If you truly want to create something special in your backyard and maximize this new space, consider investing in some potted plants to liven up and add some vibrancy to your area. Plants create a tranquil atmosphere that brings nature to you, making your space more comfortable, relaxing and inviting.
This list delves into the best potted plants to suit your patio, according to your specific tastes (and gardening abilities). They're all built to withstand the merciless heat that Queensland's sun brings, which your new awnings or blinds also help with too!
Lush & Full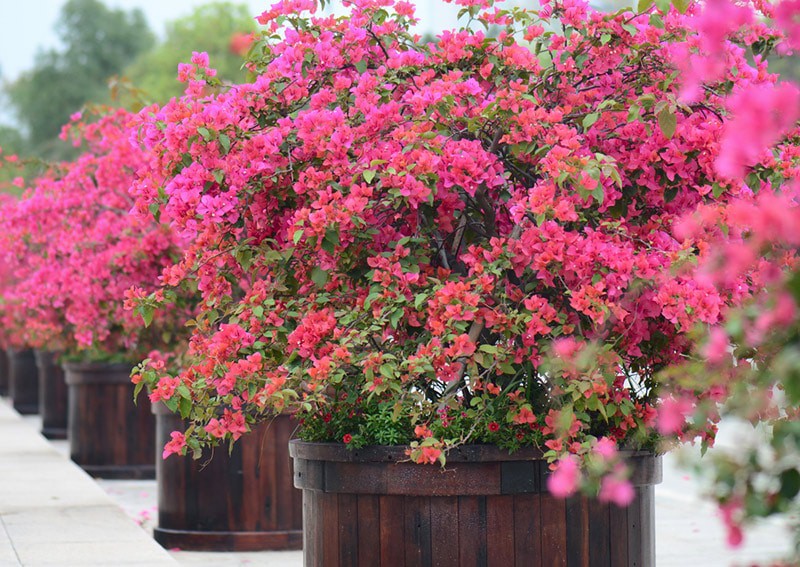 Bougainvilleas
With their beautiful, bold and bright flowers that bloom practically all year round, bougainvilleas are a great statement piece for your patio. They light up any space, even when confined to the pot in which they're planted.
New Zealand Flax
Don't worry; you're just inviting New Zealand's flax into your yard, not their rugby team. These tropical, strappy leaved numbers are a very popular choice for landscapers and designers, and come in a range of earthy tones including green and burgundy.
Clivia
The contrast between the clivia's bright orange flowers and lush green foliage really makes them stand out. They don't like too much direct sunlight - so only plant them if you're prepared to give your new awnings a workout.
Subtle & Sweet
Succulents
Currently the trendiest numbers in the gardening world, succulents are a great choice for those with limited space and limited plant knowledge. They grow don't require much TLC, but can still make a huge impact to the overall design of your patio space.
Ixora
Although it sounds more like a character's name in a sci-fi film, ixora is actually a beautiful, flowering shrub that can add that perfect final touch to your outdoor motif.
Hanging plants
Pressed for space? Try hanging plants. They don't get in your way but they still add a nice splash of colour; we suggest fuschias or petunias.
Low Maintenance
Zonal pelargoniums/geraniums
Zonal pelargoniums (or geraniums) are both beautiful and easy to care for, even in the hot Queensland summer, if they're kept partially shaded under your Outdoor Blinds or Awnings. They come in many different flower colours and varieties to choose from and won't mind if you forget to water occasionally.
Ferns
One of the easiest groups of plants to grow with the highest reward, thanks to their ability to take on a lush life of their own.
Clematis
A lightweight and independent little fellow, clematis is a fantastic climber. Just set, forget and let your clematis plant liven up those boring posts or walls.
Practical
Herbs
Fresh flora and food at the same time? Yes please! There are plenty of great herbs to choose from - we recommend basil, coriander, parsley, and chives.
Lemon trees
When life gives you a patio… make lemon trees! These create a lovely display that also treats you to fresh citrus whenever you want.
Mosquito repellents
Combine decorating your patio with warding off those pesky mosquitoes, with citronella, lemon eucalyptus, rosemary, lemongrass, lavender, or peppermint.