How to Choose the Best Window Treatment for your Home
Whether you need a quick fix for a room with no window treatments or to add a touch of elegance to your home that lasts almost a lifetime, shutters and blinds both do a great job of controlling the light entering your home and providing comfort and privacy. What you choose can dramatically impact the appearance of the rooms in your home and there are many other factors to weigh up such as insulation properties, cost, longevity of the material, and maintenance requirements. Factory Direct Shutters Awnings and Blinds specialises in providing quality and affordable solutions for plantation shutters, blinds and a range of other window treatments and security options and can help you make the right choice for your budget, room and style preferences.
Here are some simple guidelines to keep in mind when comparing products and weighing up the benefits of plantation shutters versus blinds and where best to install them.
Quality vs. Budget
Shutters and blinds play a key role in the interior design and comfort of your home. Choosing the right option largely depends on your budget, personal preferences and their placement. Really consider what custom features you'd prefer to include too, such as cordless blinds if you have young children, or motorised blinds to make life more seamless, adjust for the weather or if you have hard-to-reach windows.
Whether it's your first home or you've had loads of experience choosing window treatments, it never hurts to consider some simple guidelines when deciding on window coverings. When it comes to picking shutters or blinds, take time with your choice as you will be looking at them and through them every day. Better to weigh up the pros and cons of several options before installing them and having buyer's remorse!
It's always best to choose quality products that fit your needs and reflect your unique personal aesthetic. Purchasing the best quality window coverings you can afford is worthwhile because chances are they will last longer too. There's a common misconception that blinds are better because they can be cheaper than shutters, but when weighing up how much shutters cost, it's worth considering their upkeep and longevity because sometimes shutters can be the most cost-effective in the long run.
Need Help?
Our specialists at Factory Direct Shutters Awnings and Blinds are the experts, so let us help you. There's no need to get overwhelmed about which window treatments to choose from. With decades of experience on the styles, materials, and variations of window treatments to suit different needs, we're more than happy to help you to make the right decision on choosing between shutters and blinds.
Contact one of our team members today on 1300 077 125 and we'll bring the showroom to you!
Benefits of Blinds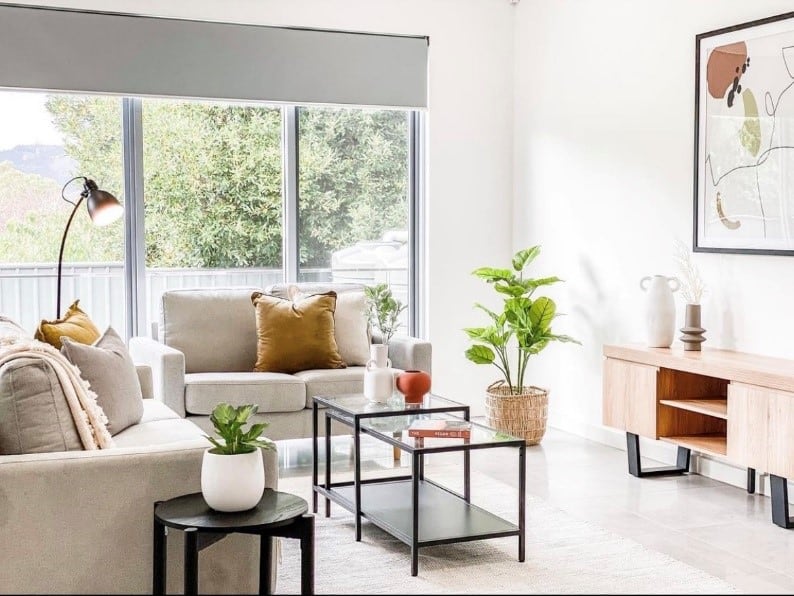 Blinds are a reliable and versatile window treatment that can fit any style and provide good air flow, light control and temperature regulation to be comfortable in your home. They come in a huge range of materials, fabrics, colours, textures and even patterns. Wooden blinds provide an earthy feeling to a home, while neutral tones in white or beige can be better to create a more industrial or modern vibe. So whether you prefer a home design that's modern, traditional, boho or country, blinds can add a sophisticated look to really link the whole place together.
Something to consider when deciding between blinds or shutters is that blinds tend to suit smaller rooms with less space and can be paired with drapes or curtains to create a cozy, snug feeling. Whereas shutters can work better in more spacious, vast areas such as entertaining areas.
Blind Benefits
Affordable
Ideal for smaller rooms
Huge range of materials and colours
Good air/light flow
Advantages of Plantation Shutters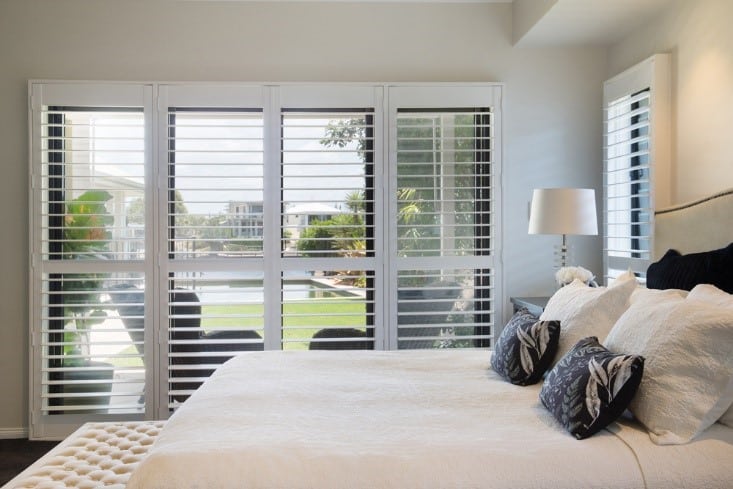 Plantation shutters offer a traditional and timeless look to any home with wider louvers than blinds which allow more light through. Many people don't consider the maintenance that window treatments require when choosing what's best for their home either. It's worth keeping in mind how frequently you'll need to access your shutters or blinds for cleaning. With large louvers, typical of plantation and other shutters, less time cleaning is necessary and it's easier due to the larger amount of space between each louver.
Shutters add a lot of texture to the design of a home too. One of the many benefits of shutters is that they can be mounted inside or outside of the window frame. Typically, homeowners prefer neutral and natural clean wood finishes or white for a traditional look with plantation shutters. By painting plantation shutters with bright colours, you can really personalise a space to suit your style and your home's design.
Perhaps the best feature of shutters though is that they really become a part of the room, instead of just blending into the background. Whether it's natural wood tones, crisp-and-clean white, or painted a vibrant colour, shutters can become a beautiful feature in your home. Since shutters can be tailor-made to fit most window sizes, they help add style and texture in those weird-shaped or difficult to decorate rooms.
Shutters Advantages
Timeless elegance
Longevity – they'll last for 25 years or more
Ideal for larger areas
Great air/light flow
Weighing up the Costs
A challenge many people have when making the choice between blinds versus shutters is the cost. Usually shutters cost more compared with blinds, but there are long-term benefits which can well and truly offset that initial cost. Plantation shutters win out over blinds in the long run too because blinds typically last four to five years, whereas shutters can last 25 years or more with the proper care.
It is also worth considering the energy efficiency benefits of plantation shutters in your home. During summer, shutters are better at blocking out harmful UV rays that making our homes unbearably hot. Shutters also help reduce your power bills, especially in winter because they help regulate the internal temperature more than blinds.
Another benefit of shutters is that the resale value of your home can be increased compared with blinds as shutters are permanently fixed. The elegant and timeless look of shutters improves the appeal to potential buyers when you decide to sell your home. In this way, it's again a greater return on the initial investment when choosing shutters over blinds.
How to Choose Between Plantation Shutters vs. Blinds 
Still torn? Both plantation shutters and blinds are fantastic options, and both have advantages and disadvantages when installed in your home. Both have wonderful features for enhancing the light, privacy and design of your home. A simple rule of thumb to follow is that blinds can be better optimised in smaller rooms, while shutters work brilliantly in bigger areas like loungerooms. It may also simply come down to budget. If it's simply out of reach financially to install shutters, then the decision is made for you.
Get our Free, Expert Advice on Choosing Shutters and Blinds
Blinds and plantation shutters are both outstanding choices to install in your home. If you're having any trouble deciding between the two, our team of specialists at Factory Direct Shutters Awnings and Blinds can bring mobile showroom to you and give you experienced and professional advice on options, styles, colours, and textures.
Contact us online or call now on 1300 077 125 for a free measure and quote, or free advice on the right product for your space.