Living in Brisbane the sun can be relentless, especially during our hot and humid summers. Not only does it cause furnishings and carpeting to fade and deteriorate, but without appropriate shutters or blinds for your windows and doors, the heat penetrates your home more easily, making conditions pretty unbearable. Shutters can make a huge improvement to the level of comfort and aesthetic of your home. But which one is the right one to pick? With the many different types of shutters available, it can be overwhelming to know which type is best for your home or property. We break it all down for you below with our top tips for what shutters are best for Brisbane conditions.
Polyresin Shutters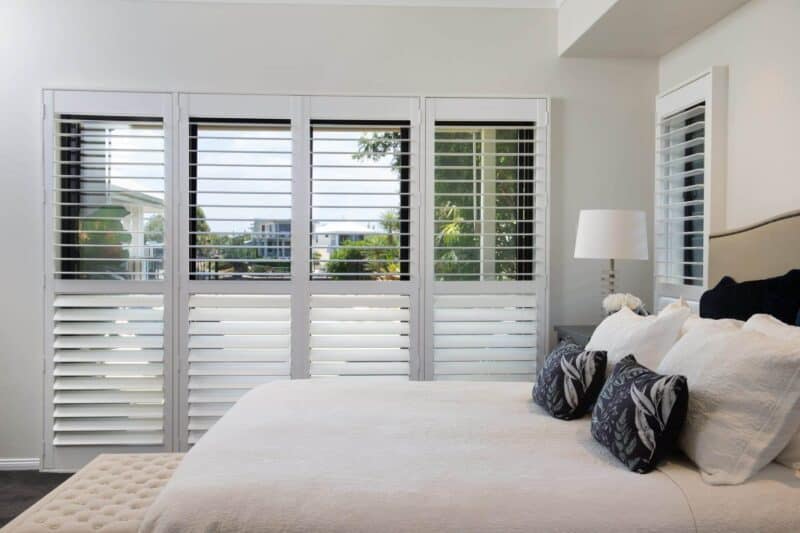 Our Alto Polyresin Shutters range allows ample breeze flow while also enhancing the quality of light, privacy and security for the typical balmy, Brisbane home.
Polyresin shutters provide Control for privacy, security and light with stylish internal window shutters. Perfect for the Brisbane climate, they're also unaffected by moisture and humidity. Our shutters can be imported or Australian made with a 15 year product and component warranty and come with a 25-year structural warranty, five year paint warranty and a 3 year hardware warranty.
This type of shutter also has the unique ability to provide excellent thermal and acoustic insulation. And because of the strength of their design, they have inbuilt impact resistance.
Timber Shutters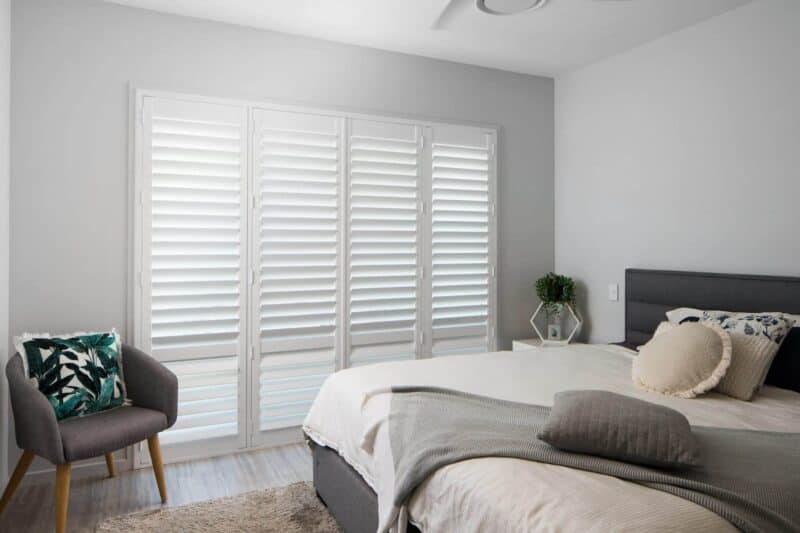 Just like polyresin shutters, timber shutters allow plenty of airflow and also enhance light quality, privacy and security for the optimal Brisbane lifestyle.
Timber shutters tend to add an element of elegance, charm and luxury to your door and window finishes too. Our range of hand-crafted Adagio Timber Shutters offer all these attributes and are made from hard-wearing premium and sustainable-grade Basswood timber found in slow-growing, cold and high alpine regions.
Our timber shutters have been designed to suit discerning decorators who want the classic elegance of solid timber to add natural beauty to their home or work environment. Perfect for the relaxed Brisbane home or office, our luxury shutters come with a wide range of natural stain or paint finishes, and a choice of blade widths to suit your décor and 25-year warranty.
Indoor Aluminium Shutters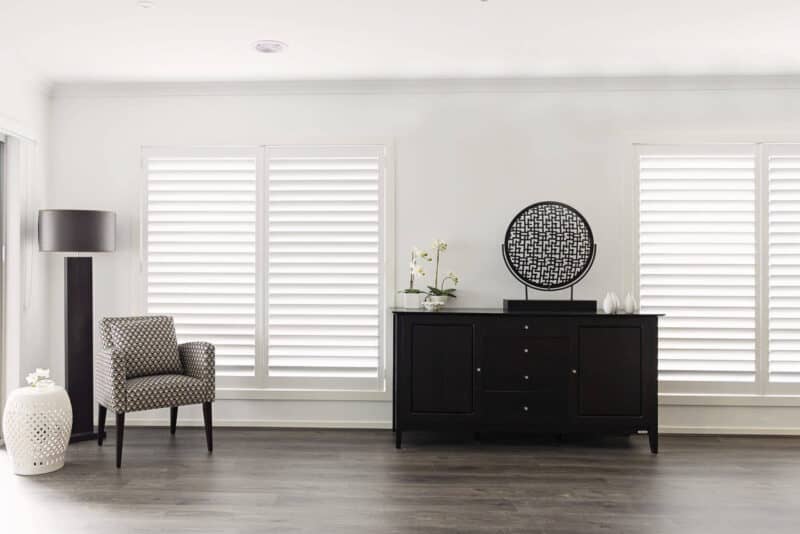 Along with the benefits of other shutter types, which enhance the breeze and light quality, this type of shutter brings a clear and clean line to any Brisbane Home's décor when used internally.
These cyclone-rated, water-resistant plantation shutters offer awesome durability and robustness while providing that stunning traditional plantation shutter look at an affordable price.
Perfect for the Brisbane climate and design style, our Vivace Internal Aluminium Shutters are lockable and come in a range of matt-finish colours. You can also add insect screens to further enhance the functionality of your shutters for the Queensland climate and keep the mozzies outside!
Outdoors Aluminium Shutters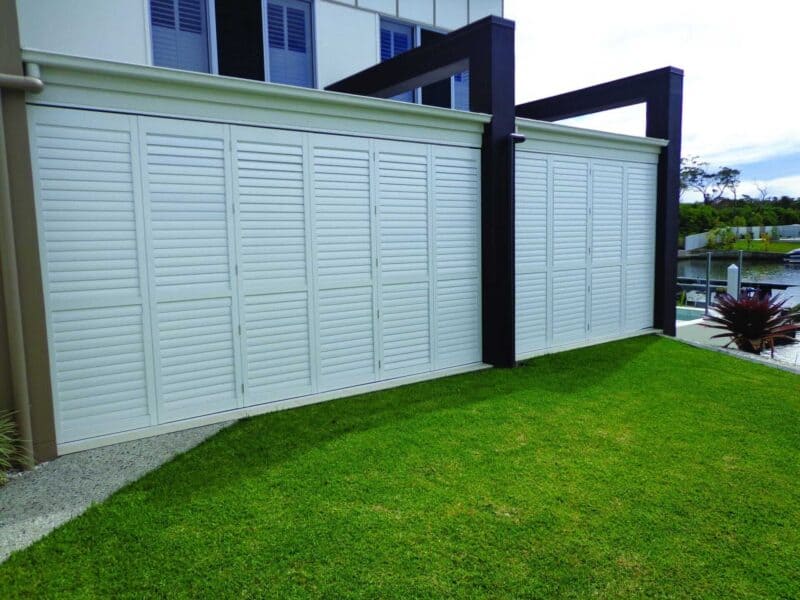 Brisbane is renowned for its impressive storm season. Feeling anxious about a huge storm rolling in at home? No worries. All our aluminium shutters are wind tested and certified to withstand a wind velocity equivalent to a category 4 cyclone, a pressure load of up to 3,630!
Ideal for Brisbane homes all year round, our Forte External Aluminium Shutters are made from the highest qulity finishes. Our plantation shutters are modern and add design finesse well suited to a wide range of installation areas and functions, including patios, verandas, alfresco dining areas, high-rise balconies and many more.
We custom design and fabricate our aluminium shutters based on their specific location and application with strengthened construction suitable for cyclonic areas.
Shutters to suit the Brisbane Lifestyle
While the sun and weather conditions in Brisbane can be unforgiving at times, investing in high quality shutters can make a huge difference to your quality of life and enhance the appearance of your home or office.
To find out more about how our range of shutters can make your lifestyle more comfortable and protect your home including furnishings, carpets and windows, contact us on 1300 077 125. We bring our mobile showroom to you, plus loads of experience.
We break it all down for you with plenty of samples and colour options, so you can feel assured that your choices will suit your needs and be suitable for Brisbane conditions.