Gold Coast interior design fashions have evolved dramatically since the 80s in terms of window treatments. Gone are the brightly coloured curtains with geometric shapes or pastel roses on a nicotine-stain background. And gone are the huge wooden curtain rings of the 70s and the vertical blinds we all obsessed over in the 90s. Today it's all about embracing minimalism, using colour carefully, maximising natural light and clever layering.
While window treatments can really take a room to the next level, comfort is of utmost importance, especially during the Gold Coast's sweltering Summers. Without shutters or blinds for your home or office, the heat gets in much more easily, making conditions pretty unbearable.
Shutters and blinds can make a huge improvement to the level of comfort and aesthetic of your home. But what's the best fit for the Gold Coast home style? With the many different types of shutters available, it can be overwhelming to know which type is best for your home or property.
When it comes to styling your Gold Coast home or office space, there's some wonderful and creative window design options you can play with, which may not be so appropriate in a city home. We break it all down for you below with our top tips on design style for the Gold Coast home and how shutters and blinds can help create the perfect coastal vibe.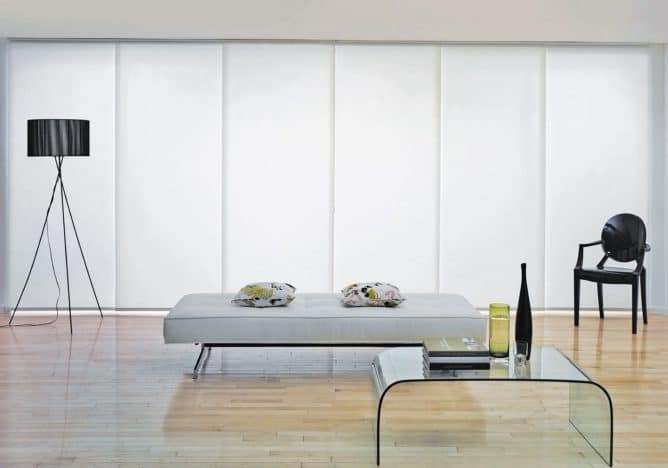 Light the way
The more natural light the better in a coastal home, so steer clear of heavy drapery and keep your window treatments as minimal as possible. Exposed windows with the ability to allow light through is recommended.
Reflect the bright beach vibe
It's all about keeping things light and bright in a coastal home, so designs using a neutral, soft colour palette work well, but you can also incorporate the colours of the sea in artwork and ornaments. When you walk into a coastal style home, the first thing you'll usually notice is light walls and timber flooring. Same goes for your window treatments. Be mindful not to turn your bedroom into a bat cave.
Textures of nature
To keep the beach vibes flowing, it's best to include organic materials in your room design like jute, rattan, wicker, linen and timber. Keep this in mind when you choose what window style treatment you prefer. It could be the best opportunity to incorporate some natural materials into your home.
The sea is your oyster
Coastal styling centres around reflecting the beautiful beach landscape into your home. How could you incorporate sun, surf and sea elements in your design planning? Surf imagery, sea themed ornaments and vases are all potential options. Be sure to keep it understated as this styling should compliment your home, not dominate it.
Layering tips
Layering curtains over blinds or shades for privacy is an on-trend design for the coastal home, allowing plenty of natural light flow during the day or privacy when it's needed. There are many types of blinds and shades to choose from such as roman blinds, roller blinds, and venetian blinds.
TIP: Organic, natural materials are on trend for 2021 and perfect for a coastal home. Try hanging woven wood blinds in rattan or bamboo to create a textured, casual look.
If you don't want to add a liner to block light entirely and is visible outside, installing curtains over your blinds or shades adds softness and privacy – a perfect layered look for the coastal home.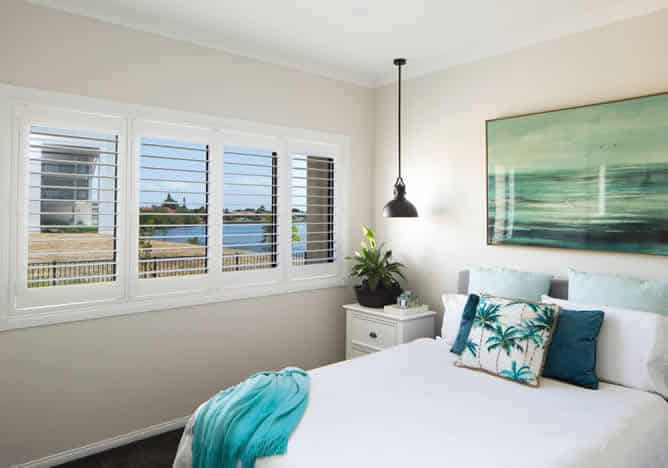 How about Shutters?
Whether it's a chic resort feeling you would like to create or a relaxed beachside balmy feel,
shutters can add a stunning level of sophistication, luxury and charm to your home.
Plantation shutters are also highly effective at insulating windows and glassed areas and reduce air conditioning cost significantly by preventing cool air from escaping.
Timber shutters are one option which adds an element of elegance and natural finish to your home. Timber shutters are an excellent option to add a natural feeling to a Gold Coast home as well as plenty of airflow, enhanced light quality, privacy and security.
Our range of hand-crafted Adagio Timber Shutters offer all these attributes and are made from hard-wearing premium and sustainable-grade Basswood timber found in slow-growing, cold and high alpine regions.
Our timber shutters have been designed to suit home decorators who want the classic elegance of solid timber to add natural beauty to their home or work environment. Perfect for the balmy Gold Coast home or office, our shutters come with a 25-year warranty in wide range of natural stain or paint finishes, with a choice of blade widths to suit your style preferences.
Polyresin Shutters
Perfect for the coastal climate, polyresin shutters are unaffected by moisture and humidity. Polyresin shutters provide excellent control for privacy, security and light with beautiful internal window options.
Our Alto Polyresin Shutters range allows ample breeze flow while also enhancing the quality of light, privacy and security for the typical balmy, Gold Coast home. This type of shutter has the unique ability to provide excellent thermal and acoustic insulation too. And because of the strength of their design, they have inbuilt impact resistance.
Our shutters can be imported or Australian made with a 15-year product and component warranty. They also have a 25-year structural warranty, five year paint warranty and a 3 year hardware warranty.
Shutters and blinds for the Gold Coast Home 
Although trends have moved on since the in-your-face 80s, there's still plenty you can do with your window treatments and interior design to create a vibrant, engaging and welcoming coastal home.
To find out more about how our range of shutters and blinds can make your lifestyle more comfortable and protect your home including furnishings, contact us on 1300 077 125. We bring our mobile showroom to you, plus decades of experience.
We break it all down for you with plenty of samples and colour options, so you can feel assured that your choices will suit your needs and enhance your coastal home perfectly.