Interior design trends come and go, so you might be forgiven for thinking that vertical blinds are no longer in vogue. After all, if you've ever come across a shabby-looking rental property that hasn't been updated in 30-plus years, the faded old verticals might have been the first thing you noticed.
These uniquely recognisable window furnishings have evolved substantially over the years, though, and can now be styled in a vibrant range of fabrics and colours to suit contemporary interiors. Vertical blinds are still prized for their simple yet stylish design and impressive versatility.
Yes, vertical blinds are still popular in 2022! They are particularly well-suited to covering large windows or sliding doors, where their ease of light control and horizontal stacking abilities are unmatched. Their relaxed feel can make any room appear more spacious, and they can be easily paired with other window treatments for a range of stylish décor options.
So, the real question is: what's not to love about vertical blinds?
The Surprising History of Vertical Blinds
Vertical blinds were a ubiquitous design favourite of the '80s and '90s, though their invention dates all the way back to the early 1950s. Then poetically described as 'a plurality of vertical slats extending across a window,' the earliest vertical blinds were composed primarily of aluminium and other metals.
Despite being a bit noisy, clunky, and prone to rust, these early-style vertical window coverings enjoyed a slow but steady uptake in sales until the late '70s, when the introduction of modern vinyl and PVC constructions saw their popularity skyrocket.
Since their heyday in the '80s, vertical blinds may have faded from view a little, but have never truly gone out of fashion. And they are now enjoying a resurgence in popularity, although, thankfully, we've moved on from the bright, gaudy styles (hello mirrored gold vinyl) that were considered trendy back in the '80s.
A Modern Twist on a Classic Window Covering
What is new in vertical blinds in 2022? Firstly, bold colours and intricately patterned fabrics are making an appearance, as decorators seek to transform these typically unassuming window coverings into a striking statement in their own right.
Next, is the mixing and matching of vertical blinds with other window furnishings, such as curtains. The superior functionality of vertical blinds to control light and privacy nicely complements the classical elegance of curtains to create a dramatic overall effect. There's also plenty of scope to play around with colours here – try pale neutral verticals with brightly patterned curtains, for instance.
Automation provides further potential for modernising and improving the functionality of vertical blinds. Motorised vertical blinds offer the ability to open, close and adjust the angle of blades with the touch of a button.
Did you know, we offer the widest range of motorised, automated, and mechanical blinds on the market? You can learn more about your blind automation options by visiting our website.
All the Things We Love About Vertical Blinds
Vertical blinds are a wonderfully practical window covering that provide exceptional control of light and shade. Tilting their blades sideways can adjust the angle of the sunlight and the view, while privacy and light blocking benefits are offered when the blades are closed.
Vertical blinds are ideally suited to large windows and high-traffic areas, such as sliding or patio doors. Other window coverings lack the practicality to stack neatly and easily to the side the way verticals do, and for this reason vertical blinds are often the most logical choice for bi-fold doors and the similar architectural features.
They also work equally well in domestic and commercial settings. Office buildings often have the kinds of large windows and minimalistic design themes that are complemented so well by vertical blinds.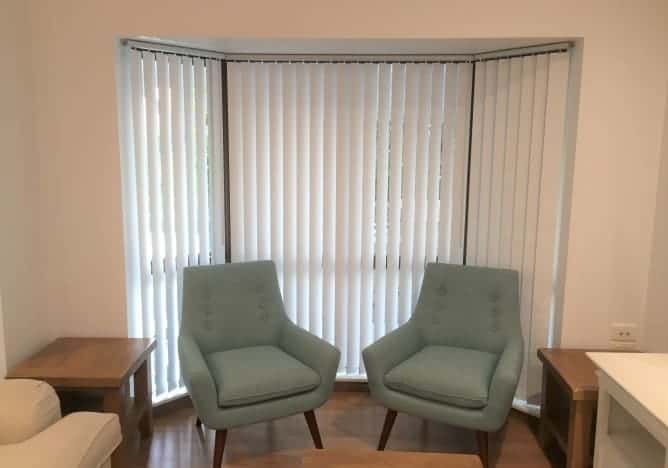 Belying their versatility, vertical blinds are a relatively simple and affordable style of window covering. They won't break the bank, nor will they add bulk to your windows. In fact, their sleek lines tend to create a feeling of spaciousness and height within a room.
Vertical blinds are also highly customisable to suit both your windows and your design tastes. Our custom-made vertical blinds are available in a wide range of attractive colours and textures to suit your home or office decor.
Ready to Update Your Interiors with Modern Vertical Blinds?
We'd love to help you with this! We've got more than 20 years' experience in our field and an expert team on hand to help you select the best window furnishings for your space. We also guarantee the quality of our products, which are all backed by generous warranties for your peace of mind.
Simply give us a call on 1300 077 125 or get in touch via our website to book in your free measure and quote, and let us bring the showroom to you.